Changes announced to Cam FM schedule Thursday, 28 August 2014
Programme Controller
Cam FM is undergoing a big shake up this Autumn, with a new experimental music show, a regular evening slot for Daniel Edward and expanded speech programming some of the highlights of a packed new schedule to start on Monday 6th October.

Saturday has a familiar feel, with (l-r) Saturday Breakfast (8-10am), Biscuit (10am-12pm) and The Saturday Music Show (12-2pm)
Daniel Edward's drive time show has been extended to every weekday from 7-8pm, whilst every lunchtime during the week the Cam FM Lunchbreak team will keep you entertained from 12-1pm.

Also a regular part of the schedule will be 8-10am breakfast shows 7 days a week. The team of Cam FM Breakfast presenters will bring you weekday breakfast, whilst Jacob Baldwin remains in his usual Saturday Breakfast slot. Meanwhile, Ged Norton and Leo Kirby will bring you a brand new Sunday Breakfast show to tempt you out of bed and towards a much needed brunch. Another early riser will be Hesham Masshour, who will bring you Shameless Pop on Mondays and Fridays between 7 and 8am.

Elsewhere at the weekend, Sunday has a significantly different feel to how it did in Easter. Some familiarity will remain, with both The Knowledge Project and In The Know brought forward to 1pm and 4pm respectively, meanwhile Metal Mania remains in the 8-10pm slot. However, Cam FM Breakthrough has an extended 6-8pm slot on a Sunday, whilst other new shows to end the week include The Weekly Spotlight and Desert Island Disco. Mowgli, a new experimental music show, will air from 10-11:30pm on Sunday and Monday.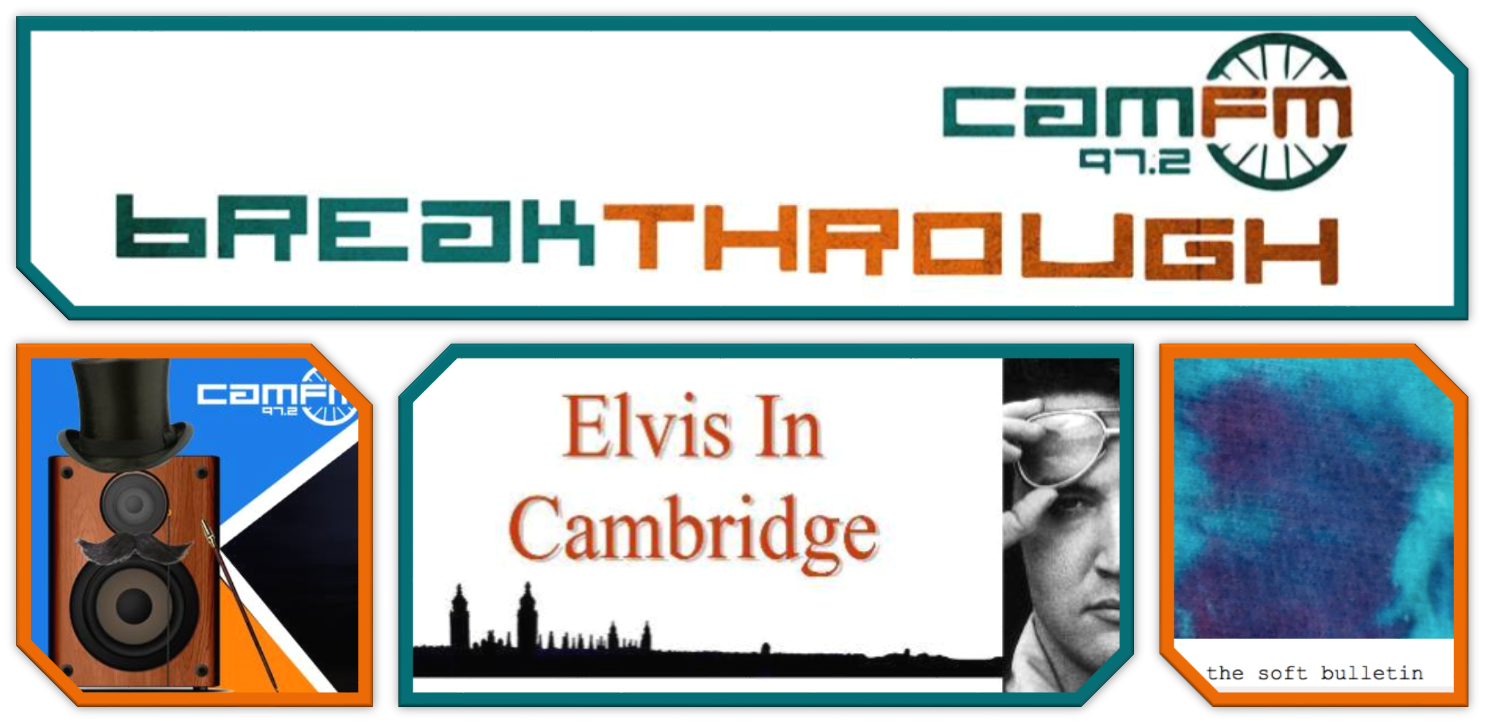 Cam FM favourites remain a fixture of the schedule, with (clockwise from top) Cam FM Breakthrough (Sunday 6-8pm), The Soft Bulletin (Friday 11pm- Saturday 1am), Elvis in Cambridge (Thursday 6-7pm) and Simon Ruggles- The Big Noise (Thursday 10pm-midnight)

The hugely successful Biscuit presented by Ella Watts moves to Saturday 10am-12pm, which is followed by the ever present Saturday Music Show with Emma Clement. Later on Saturday from 6pm, shows such as The Quite Good Radio Show 2.0, Tab Time, presented by The Cambridge Tab, and Late Night with Chris W will kick start your Saturday night.

Regular shows during the week that retain their slots include The Rock Show (Tuesday 9-11pm), Elvis in Cambridge (Thursday 6-7pm) and Restless Funk followed by Simon Ruggles- The Big Noise (Thursday 8pm-midnight). New shows that have been added to the schedule during the week include, amongst others, Cinemosa (Tuesday 6pm), The Shipping Forecast (Wednesday 6pm) and Some Like It Dan (Friday 5pm).

Friday nights retain their strong line-up of flagship shows with New Music Fridays (8pm), Alt Radio (9pm) and The Soft Bulletin (11pm-1am) meaning a Friday evening remains a must for any music lover. Also on Friday evenings, Masterpieces (10pm) finds the world's best albums and plays them in full, just how they should be heard.

Rock, metal and grunge retain their strong presence in the schedule, with The Rock Show (Tuesday 9-11pm), Metal Mania (Sunday 8-10pm) and Seattle Sound (Tuesday 11pm-midnight).

The dramatic expansion in speech programming is also apparent on the new schedule and means anyone can find something they will enjoy. On the factual side, Lucy Wark will join you with The Big Debate at 4pm on Tuesdays to explore a wide array of issues whilst Jack Ranson introduces Cam FM's very own sports show, The Cambridge Sports Report, at 4pm on Fridays.

However, if drama is your thing, listen into Zombie FM at 10pm on Wednesdays to see if Craig and Lan can survive a zombie apocalypse, the Cam FM Sketch Show (Friday 6:30pm) or Cambridge Shortlegs Presents… (Sunday 5pm).

There really is something for everyone of Cam FM this coming autumn, with the new schedule starting on Monday 6th October. Don't miss out!
You can listen online at www.camfm.co.uk, on 97.2 FM in Cambridge or through Cantapp, and as ever catch up on any shows through the 'Listen Again' feature.
The schedule is correct at the time of publication and is subject to change. To see up to date schedule, visit the schedule at www.camfm.co.uk/schedule/.