Cam FM Review - Secret Garden Party 2016 Sunday, 07 August 2016
Audrey Aroha Tietz - Head of Music
Nestled amongst the Cambridgeshire fens, lives a little party that happens once a year. This glorious shambles of fun named itself Secret Garden party in 2004. What used to be a pixie-esk get together for the glitterati of far and wide, soon and quickly became a popular destination for all wannabe astronauts, of all ages and places.
As I write this from the comfort of my room, I am still shocked and amazed at the utterly bonkers and fantastic journey this festival takes you. From start to finish, sunrise till sunset, the effort that goes into making sure you have a GOOD TIME is totally unprecedented.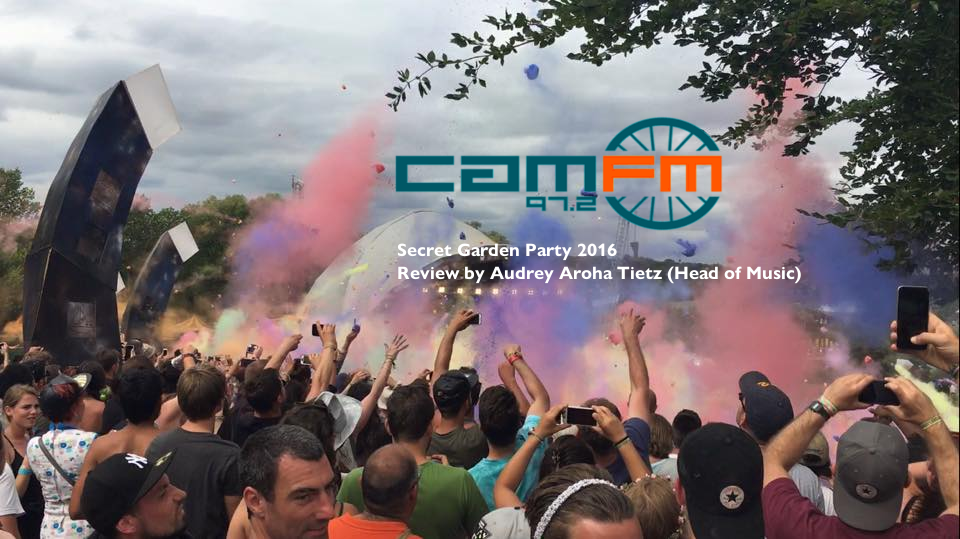 And so on with the story, our journey began on the Friday evening. A beautiful sunset lit the sky on the drive to Huntingdon, a long evening where the sun did not properly set till around 10. This allowed much time for debauchery and fun to have while sight was still possible. When we arrived, a funny man with a horizontal bike took our belongings and we followed him to our campsite (excellent, excellent, excellent). We met our neighbours of whom we shared our bottle of champagne (hehe) and then groovied on down to the main stage and general arena to observe the area. SGP actually begins on the Thursday, so most of the people had already begun their gallivanting and were in full throttle, we had some catching up to do. Music wise, this festival is always so excellent with their choices. Being fashionable to intertwine the choice of music with the theme of the year. This year the theme was science fiction, with a big nod towards the idea of SPACE. To give you an idea, the three head liners were Maribou State, Caribou and Air. Inside the arena the decorations and art is impeccable, every corner there is imagination. Clever signs, beautiful banners, symmetry and design. I enjoyed Friday so much i stayed up till the sun came up and also did some sunrise skinny dipping (Oh-la-la!) I also got to know local DJ Luke Hurrel who has been coming to the festival for years. Here is his take on Cambridge dance music and the effect on SGP to the surrounding area.
Secret garden party has had a fantastic impact for the events around Cambridgeshire. Heres Mark from Cambridge (Listen above for this interview).
And also Nicholas from Cambridge (Listen above for this interview)
As dawn broke on a beautiful hot Saturday, conditions in the tent were unbearable so after a few hours sleep the sun called us to be awake! Thank you sun, you were right to force us out of bed! There really was so much to do and experience, Every corner turned, there was opportunity. Whether that was to take part in a impromptu play, or relax and listen to music, have breakfast at the restaurants, hot tubs! Saunas! Segway courses! This hot sunny day promised to be special and it certainly was. With Caribou playing the main stage that evening, everyone was excited. Scantily clad human beings walking everywhere, space babes and astronauts danced around, looking for the future. There is also the presence of safety at the festival, everyone wants everyone to have a good time. Even the police were kind and funny.
Policeman's interview: (Listen above for this interview)
As the sun set, it was time to get dressed up. Saturday night has always been the night where everyone takes part in the theme and dresses to the nine. See picture to understand what Cam FM looked like. The pistole was filled with water, which would have been much more fun filled with prosecco on reflection. Saturday night also hosts the most tantalising of events- The Saturday Spectacle! Every year they out do themselves with outstanding fire works and amazing displays from the lake, with booming music guiding the events. With the theme of space for this years party, two space ships came to life on the lake, one moving with fireworks coming out of it, one stood still while lights lit up inside and balloons escaped from the pyramid. Fire works lit up the sky, in every direction. Music from the likes of Star wars, to the X files to the beloved David Bowie. It was pure wonderment and joy. As soon as the spectacle finished, Caribou magically began. Caribou are so astonishing to see live, spine tingly and just fantastic. The crowd was huge and everyone to be seen were smiling and having a blast. The rest of the evening had many events and acts to be found around the site, like DJ Shadow who drew in a massive crowd.
The weather became a bit more bearable on Sunday. Saturday had been sweltering, with no wind! Sunday still had lots of sunshine but a lovely wind, however this did not aid the sleeping situation, I ended up finding a tree with my pillow and having a nap! This beautiful day hosted some class acts, David Rodigan and the Desmond Dekker & The Aces tribute band were just some of the few to play on the main stage. The Sunday is also the day in which the paint fight takes place. Balloons filled with powdered paint were handed around to all those near the main stage and at the end of a countdown the paint was thrown. This was a beautiful, amazing sight to be seen. Truly a feast for the eyes. After watching The Aces, it was time for us sadly to go home.
With confidence, I can happily say this was the best weekend of my life. Speaking to other revellers, it looks like this was the best Secret Garden Party yet, which I'm not surprised by. From start to finish, the festival totally excelled itself. The future of this festival is sure to be exciting, my advice is to get your tickets EARLY for 2017. This is a party NOT to be missed.
So long, far well. Thank you so much for having us. See you again next year.
Audrey Aroha Tietz - Cam FM