Little Mix At Newmarket Nights Gig Review Friday, 02 September 2016
Audrey Aroha Tietz - Head of Music
'Let's get weird!'
...was the banner plasted over young and mature girls' tops and hats at Newmarket Nights concert on the 27th of August. Pop music is not usually an area I get to explore often, so I was eager to dip my toe in the hysteria of the girl group, Little Mix.
It was pure joy to see so many people singing along to their songs, which were all the hits as well as some less known hits. They were accompanied by an electric dance group which guided them through tricky (and raunchy!) dance moves. It was an exciting non-stop party and feast for the eyes. I was transfixed by their sparkly beautiful costumes, and noticed I was often drifting off in thought of how I could make my own!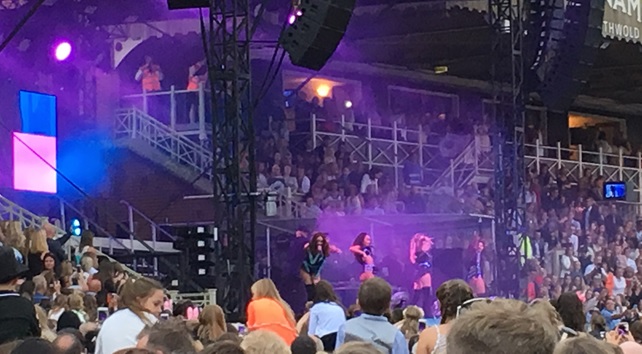 There is a reason they have been successful, they encompass everything a pop group need to have, beauty, energy, excitment, good voices and sex! They had great energy on stage with each other and great choreography, they also have a great message for young women, as a lot of their songs are about empowerment and self strength, no matter what your wearing it doesn't matter.
All in all, a fun experience. I was happy to see so many people dancing and singing along obviously having a really great time.
Much to our delight, Holborn based promoters The Jockey Club Live have already begun planning a star studded 2017 gig line-up. For further information, keep your eyes peeled to camfm.co.uk and thejockeyclublive.co.uk.